The response phase of disasters is marked by a temporary mismatch of the need to protect life and property and the resources available to meet those needs.
The response phase of a disaster begins with the first notification of the disaster, and in practical terms ends when the majority of affected people are able to work regular hours again.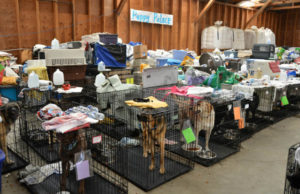 Throughout the response there is an ongoing assessment and gap analysis to determine the requirements for resources, and these activities last until urgent needs are no longer the predominant reason for resources to be in high demand.
The response phase is critical and a time when the consequences of disasters morbidity and mortality can be reduced in the spur of a moment and its management is frequently scrutinized publicly. During the response the consequences of prior planning, mitigation and preparedness come to light, and force critical decisions on the path of recovery an affected community wants to pursue. These decisions build on prior planning efforts and set the direction for a community's future, i.e., whether to return to previous conditions and, therefore, retain existing vulnerabilities, or move towards a more resilient, livable community built on thoughtful planning, preparedness and mitigation.
Animaldisasters.com can provide expertise in all of these areas, and during the response can help donors find and support the best resources to monitor and prioritize the response efforts for animals in disasters, as well as response teams that help restore animal care capabilities. Animaldisasters.com can also help direct funding towards health care for animals, including the cost of veterinary and other services provided to injured animals.
Principles of Disaster Response